So, as some of you may know I recently left Rawnet, a funky web agency, to work for a larger digital agency called Volume (yes I know it's a Flash website). Well, I've been there for about five weeks now and I'm really enjoying the change working for clients like Oracle and Dell on all sorts of different digital projects, from campaign management tools to mobile websites and apps – check out the Volume offices in a News Gem from last year…
Volume is a 100 man (and ladies) digital agency located in Wokingham, Berkshire (UK), they're growing fast and looking to hire more people to join the team so I thought I'd let you know in case you fancy a change, or know of anyone looking for a new challenge.
The positions they're looking to fill are:
Technology Analyst
Head of User Experience (UX)
Social Marketing and Strategy Planner
Events Executive
Technology Analyst
This is my current title and you'd be joining the Technology team, working alongside myself and one other Technology Analyst.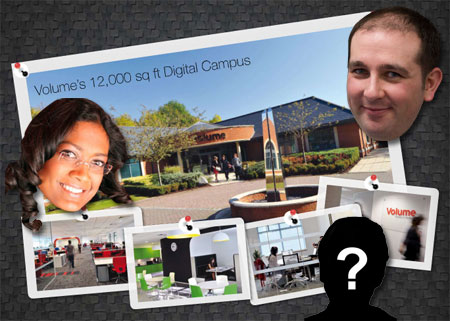 A Technology Analyst's role is to analyse client requirements, create functional specifications and manage multiple digital projects in accordance with Volume's technology standards and processes. Amongst other things, in this role you'll be:
Gathering client requirements
Project planning
Writing functional specifications
Working closely with the account management and development teams
Leading User Acceptance Testing (UAT)
Providing ongoing project management
If this sounds interesting to you then mail me or contact Volume for more details.
Head of User Experience (UX)
Volume's Head of User Experience is a new role defined from the need to deliver more creative and user friendly web applications. This role is to head the UX team which is part of the Technology department.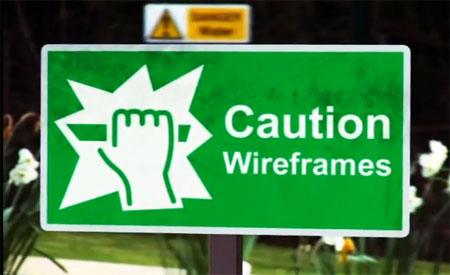 Candidates should have a proven track record of hands-on working within a digital agency and possess skills and experience in UI, UX and accessibility disciplines.
A firm understanding of industry-standard web development applications as well as a great sense of creativity would be ideal.
Responsibilities will include managing the UX developers, leading user research, creating user interface concepts, prototypes and wireframe.
The successful candidate will be responsible for the concept and UX of a variety of digital projects for Volume's key clients. Candidates will ideally be degree educated with a high level of usability knowledge, including information architecture (IA), interaction design and user research.
They should be highly experienced in web technologies and practices. Successful candidates will be instrumental in driving improvements to our service to ensure Volume web applications continue to compete at the highest level.
Calling all sitemap and wireframe addicts! Mail me or contact Volume for more details.
Social Marketing and Strategy Planner
Are you a Twexpert? (I actually thought I'd just made up that awful word, but of course Google says no with its 18,700 results) – Ok, on with the job description.
The Social Marketing and Strategy Planner will support the Head of Social Marketing & Strategy with all ongoing social marketing activity across client projects and develop social marketing strategies and campaigns for clients.
Ultimately they will maintain consistent and high levels of interaction across the social media sphere for Volume clients, in line with campaign objectives and contribute to:
Social Marketing Planning
Social Marketing Strategy
Social Marketing Insight and Analysis
Social Media Research and Development
Social Marketing Campaign Execution
Read the full job description and contact details »
Events Executive
The Events Executive works with the Events team to ensure that clients' events run smoothly and that all other aspects of the project are delivered on time.
Work will be assigned by the Senior Account Manager- Events; the Events Executive's remit is to ensure that these tasks are completed on time and to a high standard whilst adhering to strict budgets.
The Events Executive is proactive in finding tasks that need completion and should be able to communicate their progress clearly. Events Executive should be looking to learn more about the events procedures and also their clients, in order to increase the effectiveness of their work and contribute to the team.
Duties will include but are not limited to, producing a variety of reports, data management, onsite work at events, confirming attendance at events, liaising and dealing with queries from participants prior to and following events, venue searching, booking catering, managing all event stock and using clients' online systems.