For fear of becoming one of those bloggers who start out posting every other day only to find they blink a few times and suddenly their footer says "© 4 years ago", I'd thought I'd be original and create a News category and post a little update as to what I've been up to in the last month.
I don't know about you, but I'm always fascinated what other Digital Project Mangers' are up to when they're not putting the world to rights on Twitter or in blog comments.
Important things I have learnt
McDonald's coffee is now drinkable
I am the last PC user in the world
Jack Bauer could probably bruise Chuck Norris
Tropical punch should be a controlled substance
A Bruce Lee/Stormtrooper wallpaper makes me happy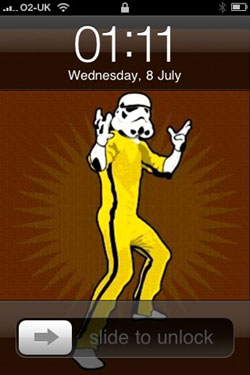 Ok, onto the more relevant content…
Smashing Magazine article published
Due to the popularity of my Estimating Time for Digital Projects series I decided to re-write the two articles into one and submit to Smashing Magazine for publication. To my humble surprise and child-like joy, it was accepted and published last month by Vitaly Friedman, Chief Editor (a genuinely nice and down to earth guy).
The article received really positive feedback and with front-page love on Digg and Delicious meant my server ground to a halt once again – joy.
Effective Strategy To Estimate Time For Your Design Projects
New sites launched
Project managing the new sites below are a big reason my posts have been almost non-existent, with another two launching soon, as you can imagine, I've been pretty beat in the evenings (please submit sympathy via comments), so much so, Rawnet are looking to hire a new Digital Project Manager, get in touch if you're interested.
HHIC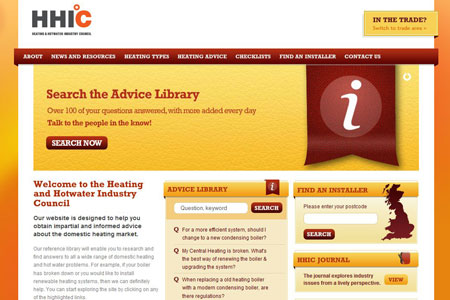 Recently rated 80/100 by New Media Age (NMA to you and me) in their Site Inspection section, this was my first public sector outing as a Digital Project Manager. It was one of those projects that just went well from the beginning, was a pleasure to work on, the results blew the client away and made everyone at Rawnet proud little soldiers.
Neocol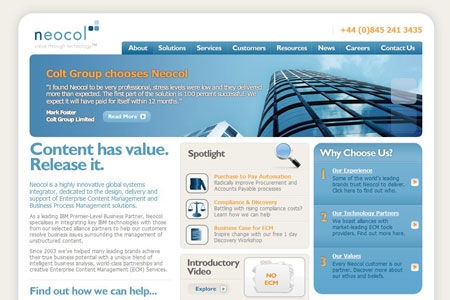 This project had it all; design, front-end, back-end, animated elevator presentation, SEO, copywriting and print marketing material design! This one took real tenacity to manage and a long time to get live, but finally managed it this week and the client is over the moon as it really does blow competitor sites out of the water.
Tax Automation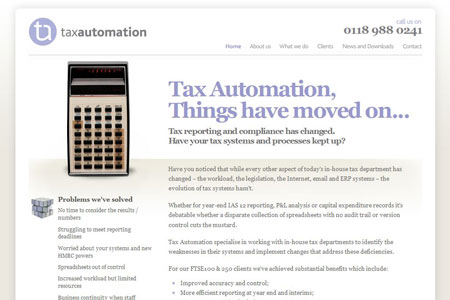 This was a really fun digital project to manage because the client wanted to target a very specific target audience of "40 – 50 year old male Finance Directors in large corporate companies, with the site having an air of sophistication and a twist of wit" – not your everyday brief!
This brief was answered by making sure the designs were clean and crisp, yet relatively simple to build XHTML and CSS templates from in order to keep the solution as cost effective as possible, and for the target audience, it was decided to focus on using imagery that would spark some nostalgia, reminding them what equipment they used to use in the 1970's – I absolutely loved searching for retro office equipment on iStock, good times!
BaxterStorey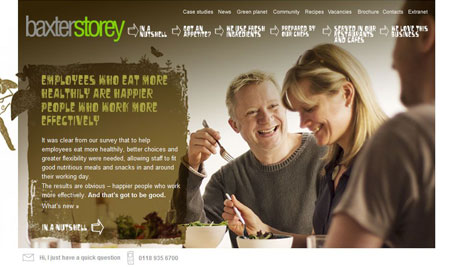 Rawnet were commissioned to provide web development for BaxterStorey's new website. The branding and design had been finalised before we came on board which meant working with not only the client but also another agency, which, as those who have had to be the lynchpin between multiple agencies will know, brings about a whole new set of challenges.
As with most projects I had to write the functional specification for this one, and will always remember, from this day forward, having to define the "flowerpot functionality".
On time and on budget makes Jack a happy boy.
Delicious feed updated
Ok, so hardly exciting, but over the last month I had built up a ridiculous amount of bookmarks, RSS feeds and Twitter favourites that I'd deemed worth a read when I got some time. Well I found that time recently and read everyone, adding the best of the bunch to my Delicious feed. Some of my personal favourites include:
The vendor client relationship – in real world situations
If you like these articles, you may want to subscribe to my Delicious RSS feed as I will be keeping this up to date from now on in a true GTD style – Operation BookmarkZero begins!
ScrnShots: Web design inspiration
For those diehard fans out there, you will have noticed a new call to action in the sidebar, underneath my shallow and desperate plea for Twitter followers – ScrnShots. This is where I upload all of the websites and website design elements I happen to chance upon, and make me go "phwooar nice!", as I cybersurf the beautiful waves of the digital super information highway.
I recommend everyone involved in the industry, not just designers, should keep some kind of inspiration record that they can draw upon when embarking on new and fantastic projects. From a digital project management perspective, you can use it to brief designers, developers and even present examples to clients to communicate solution ideas.
*Note: I don't believe I have diehard fans, just fans of Die Hard. Yippee-ki-yay!
More articles coming soon…
I have a bit of time off work at the moment so intend to get disciplined and write a few original articles – I'm hoping this public statement will force me into delivering the goods, if I fail, I will make up a very good excuse thus shifting all responsibility to something out of my control.
What digital project management topics would you like to see covered next?