You all should know of Surprised Kitty by now. Well quite frankly the question is simple… do you want to see me on a panel and doing this at next year's SXSW in Austin, Texas?
If so then let me see those fingers!
I've teamed up with Brett Harned and Dave DeRuchie from Happy Cog, and Rob Borley from Headscape to put together a panel submission for next year's event and we need your votes to help us get there!
The panel team has been put together by Brett and is entitled "Project Management for Humans (No Robots Allowed)"
Whether it's on the front lines or behind the scenes, Project Management is critical to every discipline in web development projects. Keeping your internal project team and your clients happy while making sure that the project runs smoothly are not easy tasks, but you don't have to be a robot to run a project! Simple humans can make sure a project is delivered on time and on budget. This session will cover the basics of how to manage your project like a pro and keep your clients happy. A group of seasoned project managers will share their experiences (and horror stories) on projects they've worked on, and point to specific, useful methodologies that have helped them to gracefully manage large and small projects alike.
So, digital project managers unite, head on over to the panel picker, register an account and click the little thumbs up icon on our submission page.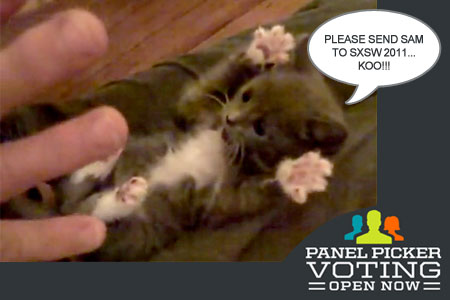 Big thanks in advance, leave a comment to say you've voted and I'll add you to my Xmas card list for sure!