There are only two things known to excite the human race that takes nine months to evolve from a seed into a fully formed being; a baby, and a SXSW Panel. However, babies only proceed to talk non-stop around six months later whereas successful SXSW Panel members begin immediately!
Here are five facts:
SXSW 2012 is here!
Digital Project Management talks are in demand
I have submitted a panel and it's called…
Digital Project Management Lessons from Darth Vader
You like this and must vote for it now
After the phenomenal success of the 2011 panel submission, Project Management for Humans (that became a Core Conversation but had people queuing out of the door!), this year we hope to get onto that panel list as clearly there is a demand for digital project management-based talks.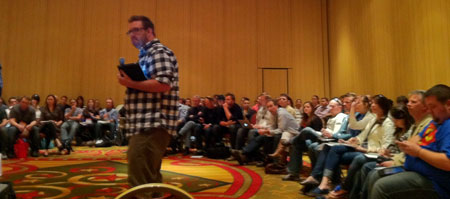 So, in preparation for next year's event, once again I call upon you to log in and cast your vote for a digital project management-based panel I've submitted with a few familiar Digital Project Manager faces.
Digital Project Manager Force
Below are the details of the digital project management-based panel, please head on over and place your vote by going to URL, logging in (or creating an account if you don't have one yet) and clicking on the little thumbs up icon.
Panel Title
Digital Project Management Lessons from Darth Vader
Digital Project Manager Speakers
Panel Description
Many web designers and developers do the unthinkable and join the dark side, they become Digital Project Managers! However most underestimate its powers. Web project management is dark art and there's no better master to teach us than Lord Vader himself.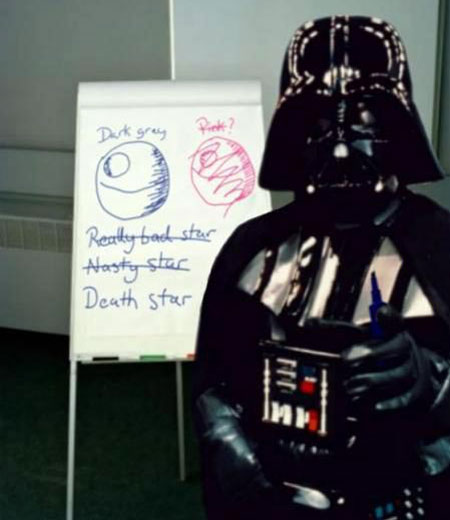 In this discussion a council of battle-hardened Digital Project Managers will look at what tips we can take from Darth with regards to the processes and challenges we face every day when planning, designing and delivering both small and large websites and web applications.
Working with internal senior management and Emperor-esque clients, managing Stormtrooper productions armies like a boss, dealing with Bounty Hunter contractors and making brave decisions based on mystic instinct – this guy has all the skills.
Not to mention the job that must have been the sitemap, wireframe and functional specification that resulted in the launch of the Death Star v1.0.
Join us in the digital Jedi temple to find how digital projects can be delivered smoothly.
Some Questions That Will Be Covered
What are the best ways to manage multiple digital projects?
How do I manage difficult clients?
What makes web designers and developers happy, and angry with Digital Project Managers?
Agile or Waterfall, what works best for digital projects?
What are the common pitfalls when managing digital projects and how can I avoid them?
Target Audience
Digital Project Managers, Digital Producers, Account Managers, Senior Web Designers and Developers, Digital Freelancers and even Managing Directors – if you work in digital it doesn't matter what skills you have, if you can't effectively manage projects you're in trouble. This talk will have something valuable for anyone involved in the management of digital projects.
Cmon, get voting already!
Other Digital Project Management Panels
As well as my own, I'm happy to say there are a growing number of digital project management-based submissions this year that you may want to check out:
Dealing With The "F" Word: Feedback
Digital Project Management: Commonly Made Mistakes