So as a blogger, when you hit a bad patch, aka playing way too much FIFA10, and don't seem to be able to find the time to write a post you can always resort to writing a news update, so here it is, find out what's been going on in my world of Rawnet work.
… and trust me, while you're reading this I'm working on a more traditional digital project management article that will undoubtedly include some sweet Star Wars references.
Williams F1 website praised in Times Online
Last week Rawnet's Williams F1 website was voted 2nd out of the Five Best Formula One Websites by the Times Online.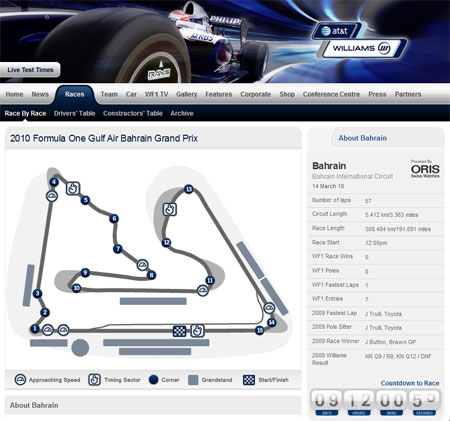 Massive congratulations to all those who worked on the site. I have to say having sneaky peeks in the office right now of the 2010 Williams re-design, I reckon it'll be 1st place next time round! Read the Times Online article »
Work with me and lose at FIFA 10
Due to a consistent growth in business Rawnet are looking to fill several new positions, so let me ask you:
Are you a Digital Project Manager or RoR developer?
Want to work in a stunning converted gothic mansion?
Want to sit on an Aeron chair while sipping Costa coffee?
Want to lose at FIFA 10 so much you go home crying?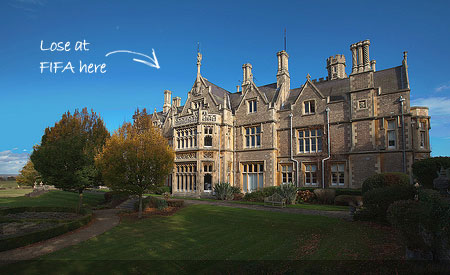 If the answers to any of these are yes, then head on over to the Rawnet website to read about the Digital Project Manager role and apply, or the Rawnet tech site for the Ruby on Rails position.
New Rawnet site imminent
The brand new Rawnet website is now in its final stages of development and will be launched very soon and all I can tell you right now is that it's looking sexual!
Follow Rawnet on Twitter if you want to know the minute it's live.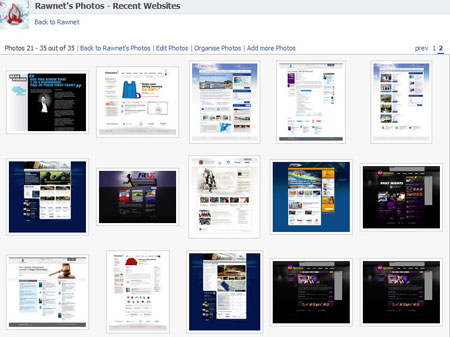 Digital projects completed
Here's a little taster of the projects I've delivered in the last few months.
Go Ape U.S.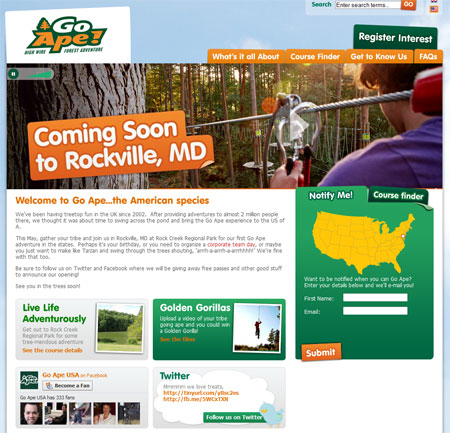 With Rawnet designing and delivering the original Go Ape UK website several years ago, I took over the account at the end of last year and one of the first jobs was to deliver the U.S. version. Visit the Go Ape U.S. website »
Go Ape Intranet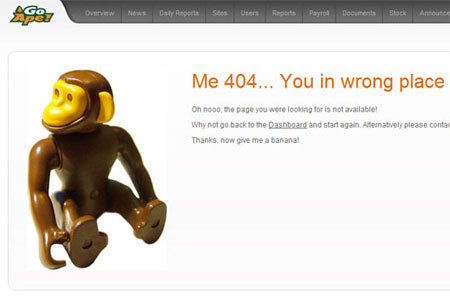 One of the biggest web application projects I've managed. The goal was to develop an Intranet that would replace the e-mail and MS Excel processes being used by the company nationwide.
All departments now use the Intranet on a daily basis, from filling in daily reports at Go Ape sites around the UK, ordering new stock with warehouse inventory management, to creating and maintaining the company's document repository – a massive project but one I'm pleased to say the client loves and I'm proud of for a whole load of reasons, including the 404 page which of course no one ever sees ;-)
Take a peek at the PCs in huts if you ever visit Go Ape and see if you can see them using their Intranet – I did that *sniggers* with the help of the Rawnet team naturally!
Folens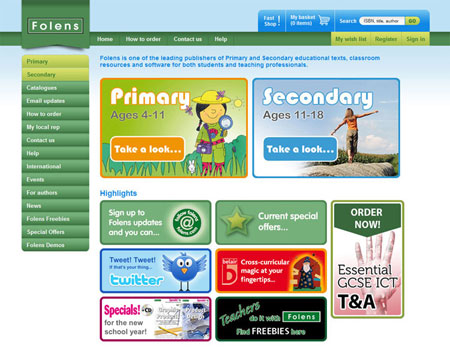 The goal of this project was to re-design and provide all front-end development for this leading educational books supplier in the U.K. I'm happy to say most of the design and code we delivered has been used! If you see any problems or dodgy design, it wasn't us!
Portico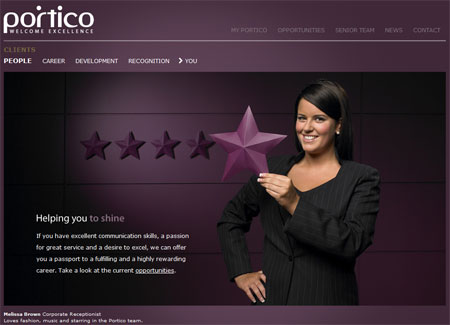 No web design this time around, just tasked to manage the delivery of the front-end templates and back-end CMS code development.
That's all folks, stay frosty.
Related reading:
Other Digital Projects delivered by me »