In Part 1 and Part 2 of this series I discussed why Digital Project Managers in small web agencies always seem to end up performing digital account management duties, why they hate it, why they should instead embrace it and different ways to deal with the workload digital account management brings.
In this final part, I will discuss what I think good digital account management is, the skill set you need and what it takes to distinguish yourself as a great Digital Account Manager.
What is good digital account management?
Simply put, good digital account anagement is… the ability to keep clients consistently happy, by being able to constantly identify ways to increase their business's revenue using digital solutions, solutions that your web agency can implement at a cost that results in profit.
Although a job with a hundred other roles and responsibilities, they all ultimately are geared towards:
Winning new business from new clients
Winning repeat business from existing clients
Extending their agency's reach into the client's business
If a Digital Account Manager can consistently meet the monthly revenue targets set by their superior while keeping all their clients happy and losing none to competitors, then they have done a good job and shown what good digital account management is.
Ok, we now know what good digital account management is, but what skill set does a Digital Account Manager need today in order to get employed and stay employed?
The Digital Account Manager basic skill set
Rather than immediately launch into what I believe makes a great Digital Account Manager I thought I'd take a look around some job boards to see what the general consensus currently is among digital agencies looking to hire Digital Account Managers, or put another way, what is the basic skill set required to be a Digital Account Manager today.
Client management
Build and maintain client relationships as the primary contact point
Responsible for day-to-day management of clients, requests and accounts
Tactical and strategic sales
Identify new sales opportunities within existing accounts
Achieve personal monthly new business / revenue targets set by the CEO
Spearhead client meetings, presentations and account winning client pitches
Provide sales and project documentation including proposals, quoting, contracts and budgeting
Lead, write and present client account strategy development documents
Analysis and reporting
In-depth analysis of web analytics to produce monthly reports with key recommendations for client
Monitoring and understanding your clients markets; be aware of market issues and competitive activity
Consultancy
Information Architecture, SEO, PPC, and Social Media consultancy
Internal and personal
Proven digital creative and technical experience
Manage production teams to ensure delivery of projects is on time and on budget
Reporting monthly to the agency management team on your activities
As you can imagine, I've omitted the usual "great communicator" and "must be pro-active" attributes, I even came across the requirement "Mastery of MS Word" – mastery? … wow.
So we can see the skill set that an average Digital Account Manager should have in their arsenal, but what makes the great ones stand out? What do they have, what can they do that the bog standard ones can't?
What makes a great Digital Account Manager?
From my experience, the difference between an average Digital Account Manager and a great one is the same thing that separates an average designer or developer from a great one – a burning passion for all things digital. They live and breathe it, during the day and when they go home – they absolutely love it and can't get enough.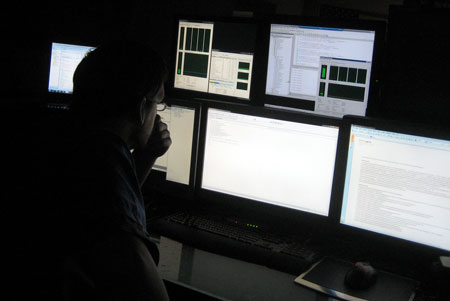 Although this isn't the only difference, the others tend to be born out of this one alone.
Ok, so other than the burning passion thing, here's what else I believe are the tell tale signs of a great Digital Account Manager, they tend to have:
The ability to provide quality solutions to the client that they love because it helps achieve their business aims, but also aligns with their web agency's business strategy – clever
An honest addiction to the web that enables them to be able to know about and suggest new solutions to clients that are cutting edge and no competitors have started to adopt yet
Enough web design and development knowledge that earns the respect of both production teams because they rarely sell solutions to clients that are unrealistic in terms of time or complexity
Enough knowledge to handle the whole selling process mostly alone, right up until the production phase needs to begin
The willingness to personally research any digital topic they need to in order to be able to speak to the client with complete confidence without relying too much on creative or technical production resource
Great Digital Account Managers are rare, if you find one, hold onto them for dear life because the unfortunate reality is that far too many Digital Account Managers simply act as a web agency's face and voice, making out to the client they know what they're talking about when in reality they're completely relying on the creative and technical teams to cover their lack of knowledge, in some cases even asking them to write whole e-mails that they can send to the client as if they wrote it.
I believe this reality is unlikely to change simply because few people who work as a great web designer or web developer (and thus have the burning passion needed) want to make the leap from production into digital account management, or digital project management for that matter, so you tend to find the space full of people who have minimal web experience.
However, maybe there is hope… looking at the digital account management job descriptions it seems that to be a Digital Account Manager today you are now required to know much more about web design, development and trends than ever before – could it be we are heading towards an era where most Digital Account Managers are really and genuinely web-savvy? I really hope so…
In summary
As a Digital Project Manager working in a small web agency you will almost certainly be called upon to perform digital account management tasks on a regular basis and they will usually come with no warning and need your immediate attention, throwing your digital project schedules into bedlam.
Unless your agency adopts the approach of larger companies, by employing a dedicated Digital Account Manager, you will just have to get used to it because the client will probably know you a million times more than anyone else in the company and always approach you with requests – see this for the compliment it is if nothing else.
Try to make sure you're in a position where you can justify any delays to your digital projects due to account management to your boss and then start to embrace and enjoy it, you're being paid to develop your own skillset that will never go out of date, something you wouldn't get an opportunity to do in a larger company and something that even benefits your own agency – everyone's a winner.
If it all gets too much and you simply can't cope with the additional workload, seek help, find out if you can deal with it when you know you'll have the time or work a little overtime and take one for the team – there are always options that mean the client stays happy and you don't go insane.
Once you find the time to put your digital account management hat on, do the best job you can. Remember the point of it, it's not only to generate new revenue for your agency but to do so while providing genuinely useful solutions to the client that help them achieve specific business goals.
As a Digital Project Manager you probably already have enough knowledge and passion to temporarily pass as an average Digital Account Manager. But why not try to be a great one by keeping up to date with the latest web trends and technologies and putting in the extra work to keep the digital account management work away from your production team, and retaining the digital project management ethos of trying to keep them doing what they should be and making their job as easy as possible – you will reap all of the rewards in the end – fact.
Related reading: