Just a quick post to let you all know Smashing Magazine have just released the latest edition in their excellent eBook series entitled Successful Freelancing for Web Designers.
It's a "best of" compilation of articles about professional freelancing that have been published on Smashing Magazine and Noupe in 2009 and 2010.
Not only does this eBook cover quite literally everything you'd ever need to know about working as a freelance web designer in articles from authors like Paul Boag, Cameron Chapman and Alyssa Gregory.
I'm also proud to say it also includes articles written by myself and Rob Smith (who I recently interviewed on the subject of digital project management)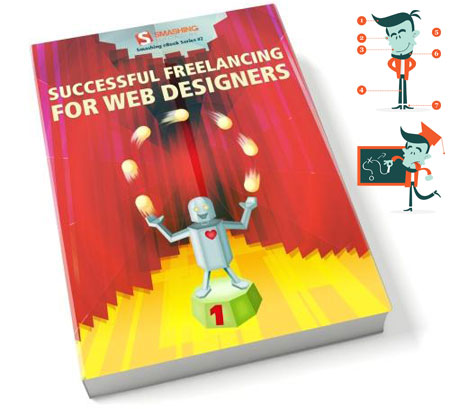 Check out the book contents, then head on over to Smashing Magazine to download a sample and order your own copy!
*Note: Bold author name denotes a "whoop!"
Essential Habits of an Effective Professional Freelancer (Rob Smith)
Common Questions of Web Designers (Andy Rutledge)
The Designer Who Delivers (Aurimas Adomavicius)
Critical Mistakes Freelancers Make (Robert Bowen)
The Importance of Customer Service (Robert Bowen)
Creatively Handling the Admin Side of Freelancing (Robert Bowen)
Pitching Like a Pro (Cameron Chapman)
The Finances of Freelancing (Luke Reimer)
How to Identify and Deal With Different Types of Clients (Robert Bowen)
How to Improve Designer-Client Relationships (Aaron Griffith)
How to Communicate with Developers Effectively (Ryan Scherf)
How to Educate Your Clients on Web Development (Aurimas Adomavicius)
How to Explain to Clients They're Wrong (Sam Barnes)
How to Respond Effectively to Design Criticism (Andrew Follett)
How to Persuade Your Users, Boss or Clients (Paul Boag)
How to Create the Perfect Client Questionnaire (Cameron Chapman)
Getting Clients: Approaching the Company (Peter Smart)
Converting Prospects into Clients (Alyssa Gregory)
Marketing Rules and Principles for Freelancers (Jeff Gardner)
How Many Ideas Do You Show Your Clients? (Graham Smith)
Freelance Contracts: Do's And Don'ts (Robert Bowen)
What's in a Price: Guidelines for Pricing Web Designs (Thursday Bram)
Quality-Price Ratio in Web Design (Jeff Gardner)